ADA Compliance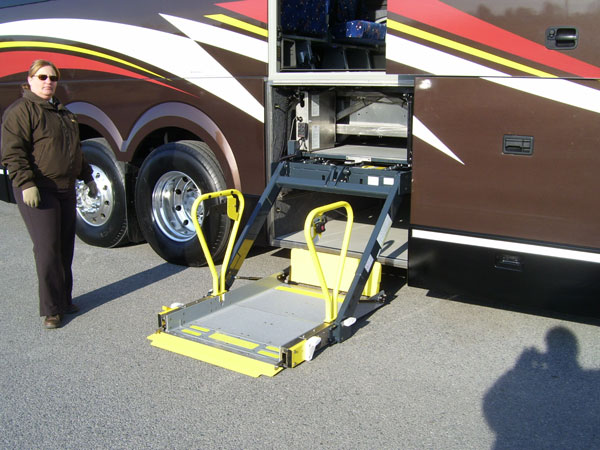 ADA Compliance In compliance with State and Federal requirements, Upstate Transit of Saratoga can, with prior notice, accommodate passengers with disabilities. Our fleet has coaches that are wheelchair accessible and that kneel for easier boarding. Our goal is to make your travel on Upstate Transit of Saratoga pleasant and convenient.
Our drivers, customer service personnel, and contractors are available to meet the needs of customers with special needs.
We provide assistance with loading and unloading, luggage, storage, and retrieval of mobility devices. These services are provided during meal and rest stops as well as other times as needed. We can help whether you are traveling alone or with a personal care attendant, using various mobility devices, or being accompanied by a service animal.
Assistance Guidelines
Advance Notice: When you provide at least a 48-hour advance notice, we can better address your requests. If you do not provide this notice, we will make every reasonable effort to help, if such request(s) will not delay departure. If wheelchair lift buses are not available or requested, alternative boarding assistance will be offered.

Lift Equiped Buses: When using a wheelchair lift equipped bus, the combined weight of the customer and the mobility aid cannot exceed 600 pounds. The mobility aid can be no more than 30 inches wide and 48 inches in height.

Assistance at Rest Stops: When a Upstate coach is at a scheduled stop,

Storing and Handling Your Mobility Aid: Your mobility aid(s) may travel inside the bus if they can be safely stored in the overhead compartment. Mobility aids that cannot be safely stored inside the bus will be placed in the underfloor baggage compartment per prior arrangement.

Traveling with Your Service Animal: Passengers with disabilities accompanied by a service animal are always welcome. The animal is the responsibility of the owner and must be under the control of the owner at all times (leash, harness, or carrier). The animal must ride in the bus within the owner's space. Service animals may not travel in the ailse or occupy a seat. Upstate Transit of Saratoga, LLC reserves the right to refuse passage to any animal that poses a direct threat to the health and safety of other customers and/or Upstate Transit of Saratoga, LLC personnel.
Oxygen/Respirators: Portable oxygen and respirators may accompany you on a Upstate Transit of Saratoga, LLC coach. A maximum of four canisters may travel with the passenger (two aboard the bus and two in the underfloor compartment). The maximum dimensions for each container may not exceed 4.5 inches in diameter and 26 inches in length. Passengers are responsible for ensuring that they have enough oxygen to complete their travel and are responsible for making arrangements for refills while en route. Oxygen canisters to be stored in the baggage compartment must be in protective cases with safety caps on the valves.
ALWAYS KEEP YOUR MEDICINE WITH YOU. DO NOT LEAVE IT IN YOUR CHECKED BAGGAGE.