Commuters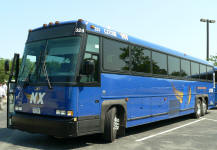 Make Your Work Commute a Whole Lot Easier
Upstate Transit of Saratoga, LLC operates daily Northway Xpress routes from numerous points throughout Saratoga County to office complexes in Albany. 
Northway Xpress Service is operated under contract with the Capital District Transit Authority (CDTA)
Our commuter service runs from Monday to Friday, except for legal holidays.
Avoid the stress of traffic and parking
Driving to and from work can be stressful. Leave the driving to us and free yourself up to concentrate on work or unwind on the way home. We'll drop you off at door to your office, so you can arrive feeling relaxed and ready for the workday. Northway Xpress commuters get free transfers to other CDTA bus routes. If you're traveling to points beyond our service area, ask your driver for more information about this option.

Schedule & Fares
Please consult the CDTA Northway Xpress Schedule for the most current information.
QUESTIONS, COMMENTS, OR CONCERNS? 
Please contact our Office directly
518-584-5252 Phone
518-584-1092 Fax
This email address is being protected from spambots. You need JavaScript enabled to view it. email
You may also access CDTA's Comment Portal through the following link: 
https://www.cdta.org/comments-policy
ADA FORM
TITLE II OF THE AMERICANS WITH DISABILITIES ACT
COMPLAINT PROCEDURE
https://www.cdta.org/forms/ada-complaint-form